About Newark UPC
Who is the pastor?
Steven J. Beardsley is the Senior Pastor. Ministering along side him is a diverse team of ministers dedicated to fulfilling Jesus' call to make disciples of all.
How many services does Newark offer per week?
We believe that being a disciple includes the following elements: worshiping, learning, serving the church, and serving the community. Currently, the church has two worship services and prayer on Sundays. There are also twelve small groups that meet throughout the month. There are discipleship classes on Tuesday and Thursday evenings and Kids' Bible Night and Big Group Learning on Wednesday evenings.
How many people does Newark minister to within a week?
Newark UPC ministers to an average of 180 people per week.
When do services occur?
The church operates on a trimester cycle. See the full trimester schedule below as well as images of our learning schedule. Please visit the Upcoming Events card for specific dates and times.
All Year, Every Sunday
Worship Service
Prayer
Servantship Service
January - March | May - July | September - November
Small Groups
Discipleship Classes
Kids' Bible Night
April | August | December
Big Group Learning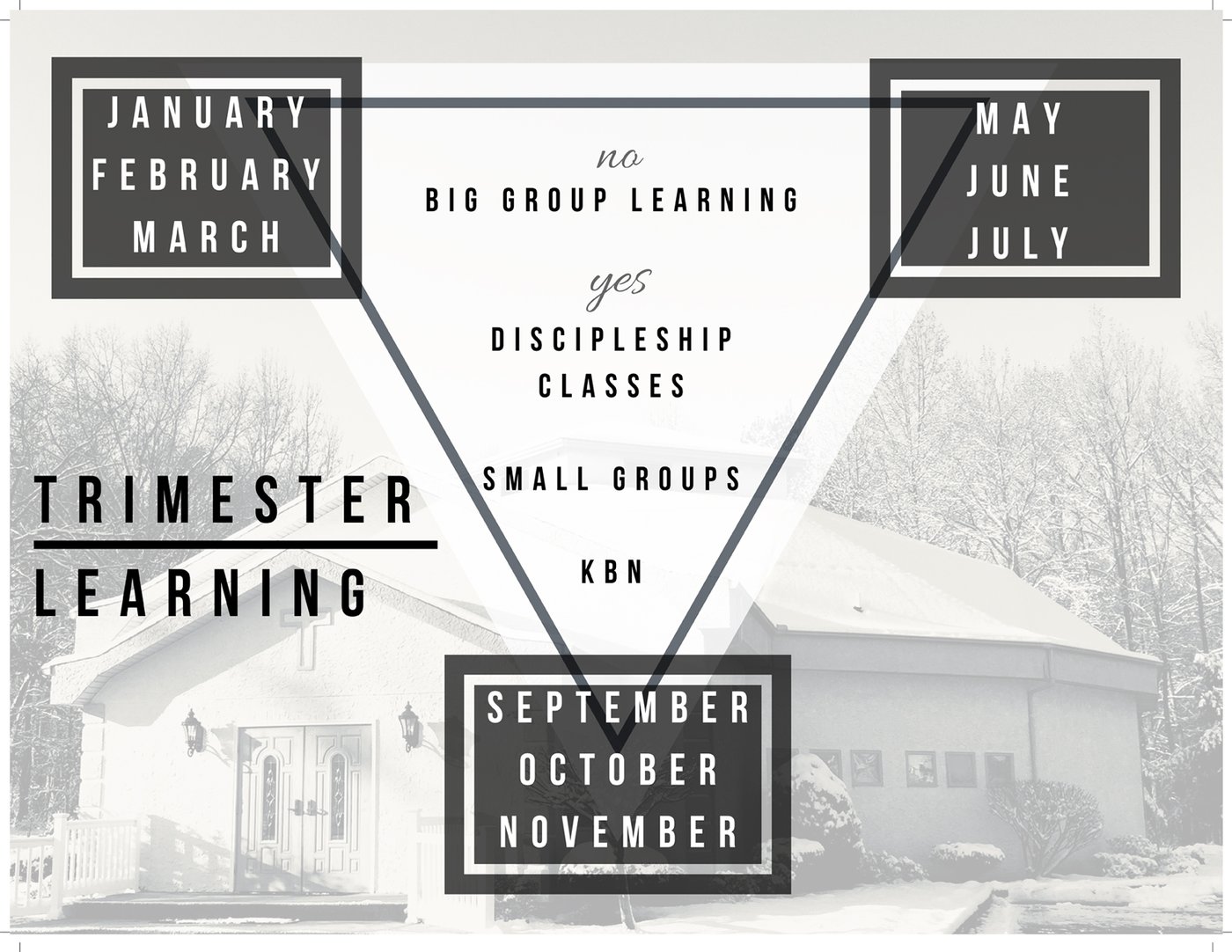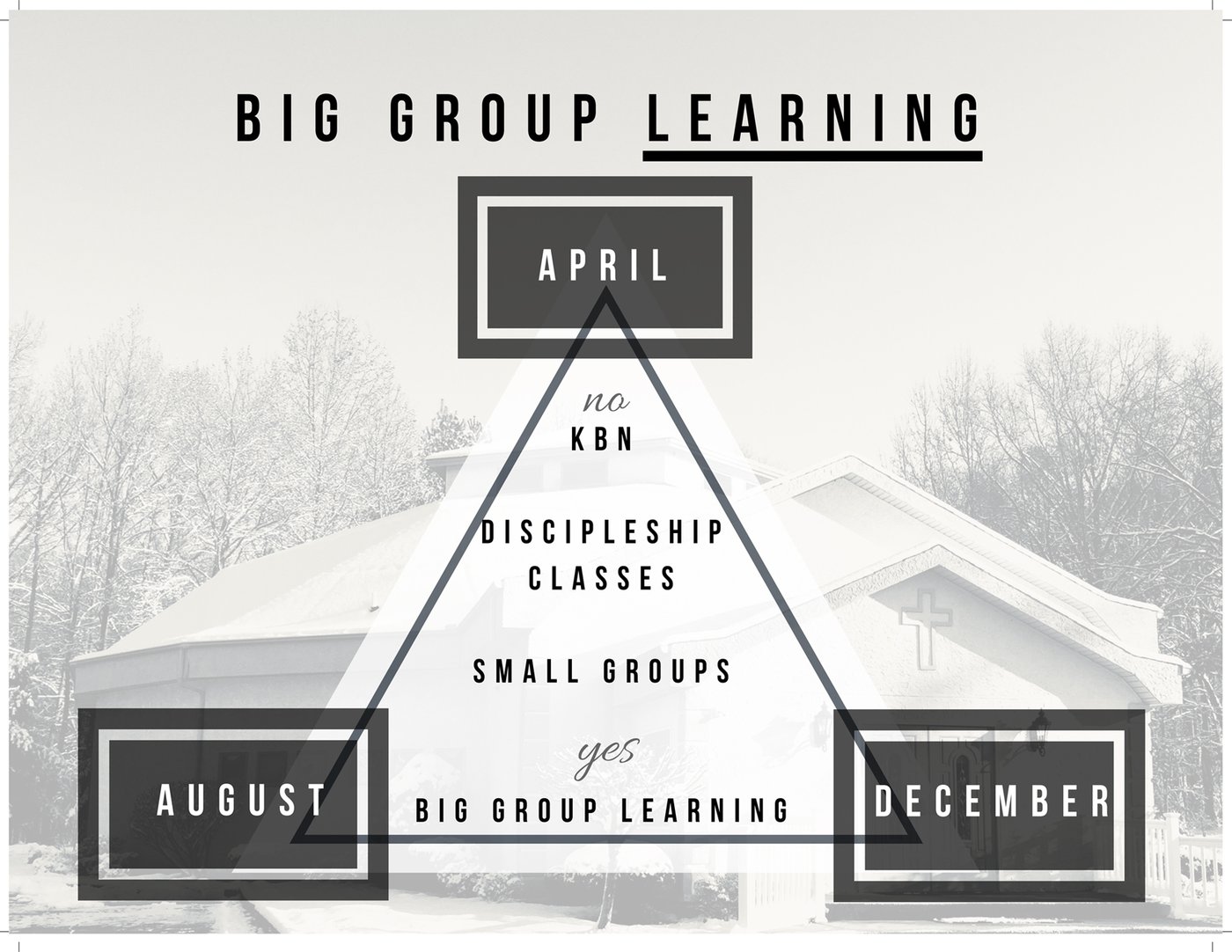 Getting Connected
What is the best way to get connected?
The best way to get connected to other members and learn what Newark UPC believes is to join a small group and a discipleship class. If you have to choose, start with registering for a discipleship class. For more information, see the Small Groups and Discipleship Classes cards.
Small Groups (sG's)
What are sG's?
sG's are gatherings of approximately 12 to 15 disciples who meet twice per month to learn more about the Word, fellowship, and support one another.
Can anyone join a sG?
Yes! Everyone is welcome to join a group. Jesus desires that all men, women, and children be His disciples.
Are guests welcome to come, too?
Absolutely! In fact, members are encouraged to invite guests.
Where are sG's hosted?
These groups meet in homes throughout the community. Visit our Small Groups card to find a list of all of our current groups.
What is my responsibility as a group member?
Each group member is to contribute to the preparation, set-up, and clean up of the meal. The group decides together how this will be done. Group members also share burdens with one another, pray for each other, and form bonds as they are responsive to each other's celebrations, joys, and difficulties.
What factors determine which group I am assigned to?
Location is the first criteria used to determine where a person is placed. Assigning you to a group that is hosted the closest to your home is ideal. However, the amount of open spots within groups and diversity of members are also considered.
How do I join a sG?
Go to the Small Groups card to register.
Discipleship Classes
What are discipleship classes?
Discipleship classes are a three part series of lessons, A New Life, A Growing Life, and A Maturing Life. Each level includes 10 lessons that cover core topics integral to becoming a follower of Christ and a mature disciple. Everyone is encouraged and welcome to take discipleship classes.
How do I register for classes?
Go to the Discipleship Classes card and register for A New Life.
Children and Youth
Does Newark have Sunday School?
Well, no! Our children's ministries are on Wednesdays. We believe strongly that children are an important part of the Kingdom of God and therefore should be included in our Sunday worship services. In services, children are exposed to the presence of God and the moving of the Spirit and learn to participate in worship.
What children's ministries are available at Newark?
As integral members of the Kingdom, we highly regard children and invest in making them disciples. Our Wednesday evening Kids' Bible Night (KBN) classes are dedicated to teaching children beginning at 4 years of age all the way through their senior year of high school.
In addition, children approximately ages 10 through 18 participate in our premiere youth program, Bible Quizzing. This is a national program in which bible quizzers memorize scripture according to their level (Beginner, Junior, Intermediate, and Experienced). This ministry not only develops their understanding of God's Word, but builds godly character and team work, and helps them through their adolescent and teenage years. This program engages children and parents in the Word daily, includes local, regional, and national travel, and fosters fellowship with like young people.
Big Group (Bg) Learning
What is Big Group Learning?
Our church operates on a trimester cycle. On Wednesday evenings in April, August, and December the entire church learns together in the main sanctuary. There are no small groups, discipleship classes, or Kids' Bible Night during these months. Big Groups are designed to engage younger children, teens, and adults.