Fruit of the Spirit Lesson Handouts
Online Small Groups
June 26, 2000
Greetings Newark Family,
As we continue in this "Shelter At Home" season longer than most of us anticipated, the pastoral team had to make several adjustments to our ongoing weekly meetings. As of July 1, 2020, the WebEx platform we have been using for small groups will no longer support the length of time we are currently using (meetings will be limited to 50 minutes). In order to preserve our current meeting structure we are switching to the Zoom video conferencing application. This change will start on Tuesday June 30th.
What does this mean for you? For the remainder of this Shelter At Home period Newark UPC is still planning to have weekly small group meetings and those meeting times are not changing. If you have been meeting on a Tuesday or Thursday morning at 10 AM or on a Tuesday or Thursday evening at 7:30 PM, you will continue to meet on the same day at the same time. The only difference is that we will now be meeting using Zoom rather than WebEx. Small groups will now meet in "breakout rooms" within Zoom. Everyone will first join a collective Zoom call at the scheduled time and then be directed to the appropriate "room" for their sG session.
Please note that in order to join a Zoom meeting you will need to use an 11-digit meeting ID and a password. This process is very similar to the previously used WebEx platform. Please see the information below for your small group time, meeting ID, and password.
***Instructions for downloading the Zoom application -OR- how to join by telephone are listed further down this page.***
TUESDAY SMALL GROUPS
10:00 am:
Meeting ID # 869 5142 0625
Meeting Password: 633688
7:30 pm:
Meeting ID # 818 1111 6433
Meeting Password: 633688
THURSDAY SMALL GROUPS
10:00 am:
Meeting ID # 899 3161 4170
Meeting Password: 633688
7:30 pm:
Meeting ID # 847 8031 7805
Meeting Password: 633688
Zoom Download Instructions - Mobile Phone/Tablet
Download the "Zoom Cloud Meetings" app from the app store on your smart phone or tablet (Google Play, iOS App Store, etc). This app is FREE and you do NOT have to create an account with Zoom to join a meeting.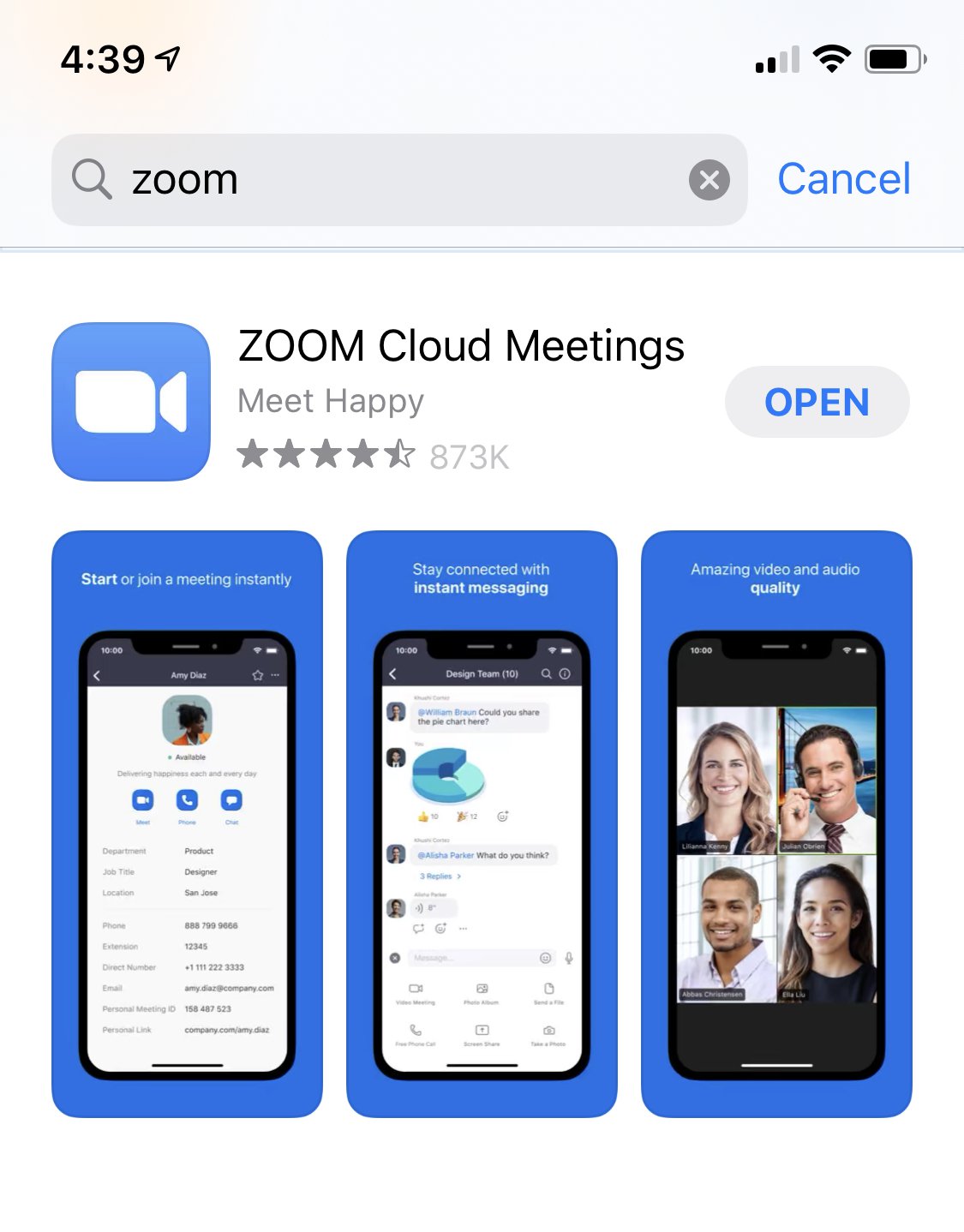 Open the Zoom app and select "Join Meeting."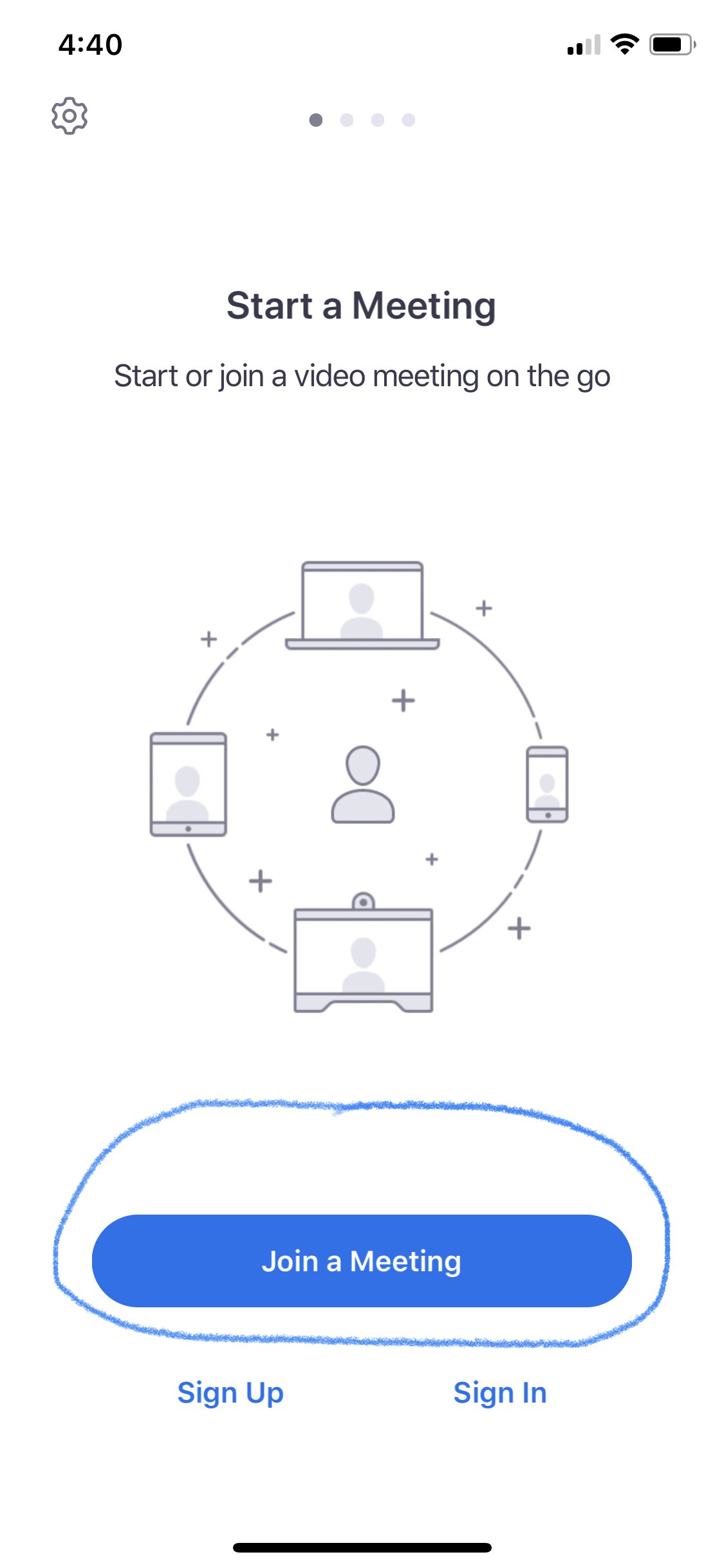 Enter the 11-digit meeting code for your small group meeting time (see info in section above).
NOTE: the snapshot below is an example, not an actual meeting code ID number.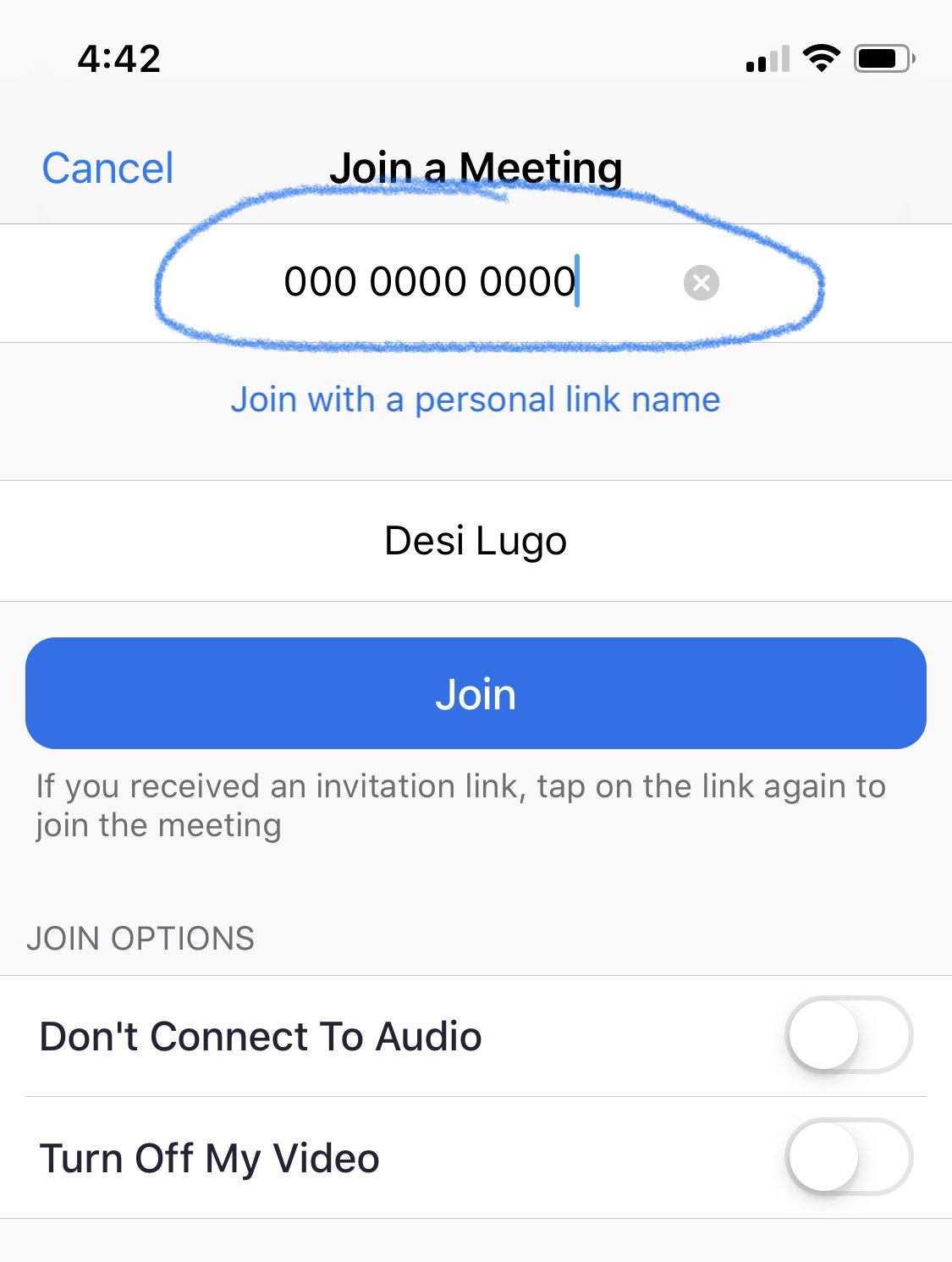 Zoom Download Instructions - Computer
You can join a Zoom meeting directly from the Zoom website (www.zoom.us) by clicking on the "Join A Meeting" link and entering the Meeting ID#.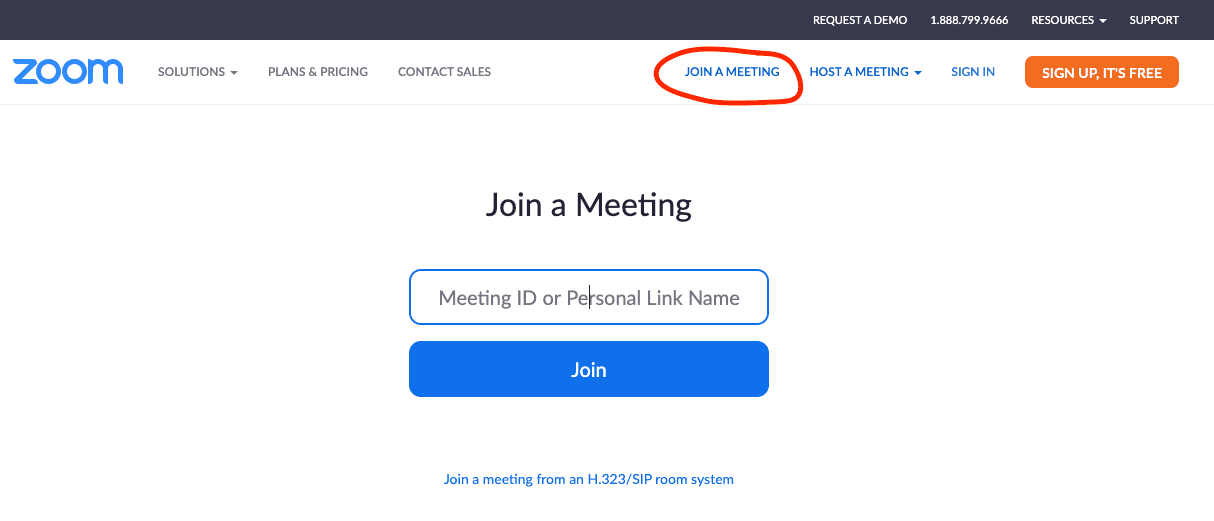 Even better, you can download the "Zoom Client for Meetings" desktop application by clicking HERE.

Download the software package and follow the prompts to install the desktop application on your computer. Once the application opens, select "Join A Meeting". Enter your name and the 11-digit meeting code for your small group time.
NOTE: You do not need to sign to join a small group meeting. The sign in option is for people who have a Zoom account; if you simply downloaded the application and did not register a username and password with Zoom, then you do not have an account.
Zoom Instructions - Telephone
You do NOT need to download anything to join the Small Group Connect meetings via your telephone.
Dial one of the toll-free numbers listed below and follow the prompts to enter the meeting ID and password for your small group time (see schedule above).
+1 929 205 6099 US (New York, NY)
+1 301 715 8592 US (Germantown, MD)
+1 312 626 6799 US (Chicago, IL)
+1 346 248 7799 US (Houston, TX)
+1 253 215 8782 US (Tacoma, WA)
+1 669 900 6833 US (San Jose, CA)
NOTE: If you choose to join by telephone, you will only join the audio portion of the meeting and will not be able to see fellow small group members via the video feature.