September 2020 Small Group Lessons
September Small Groups Update
August 26, 2020
Greetings Newark Family,
The pastoral team met on Sunday August 23rd to discuss the best course of action for our September small groups as we continue in this online format. We recognize that many of you have changing job situations and for some of our parents with school-age children, this fall represents a new learning format (online public schools). We greatly appreciate the continued support of our online small groups and we applaud how faithful many of you are to the weekly schedule. We also realize that attending an online small group every week is becoming a greater challenge for many of you, especially the groups that meet in the evening.
For the month of September we are returning to our Bible study format and a bi-weekly schedule (similar to our small group pattern before COVID-19). All small groups will continue to meet on Tuesdays and Thursdays at either 10 am or 7:30 pm, but only on the first and third weeks of September. All small groups will also continue to meet via Zoom for the month of September.
In addition to the bi-weekly Bible study we are going to include a modified version of the "Small Group Connect" calls. These calls will be scheduled for the second and fourth Tuesday and Thursday of September, but only for the 10 AM time slot. There will not be a small group call at 7:30 pm on the second and fourth weeks of September. These calls are now open to anyone who is available and interested in joining, regardless if they are normally part of a morning small group. We hope that these community calls will be a place of prayer and encouragement for those who would like more direct interaction with their church family beyond the bi-weekly small group Bible study.
Please note that because this pandemic situation makes it difficult to make long-term plans, the pastoral team has only reached a decision for what will happen with small groups in September. Stay tuned for what will happen in October as we get close to the end of September.
Sept Tuesday Morning (10 AM) Small Group
Meeting ID: 872 4967 1100
Password: 633688
Sept Tuesday Evening (7:30 PM) Small Group
Meeting ID: 886 3061 8782
Password: 633688
Only meets on Sept 1st and 15th
Sept Thursday Morning (10 AM) Small Group
Meeting ID: 858 0345 5828
Password: 633688
Sept Thursday Evening (7:30 PM) Small Group
Meeting ID: 889 5900 2566
Password: 633688
Only meets on Sept 3rd and 17th
Zoom Download Instructions - Mobile Phone/Tablet
Download the "Zoom Cloud Meetings" app from the app store on your smart phone or tablet (Google Play, iOS App Store, etc). This app is FREE and you do NOT have to create an account with Zoom to join a meeting.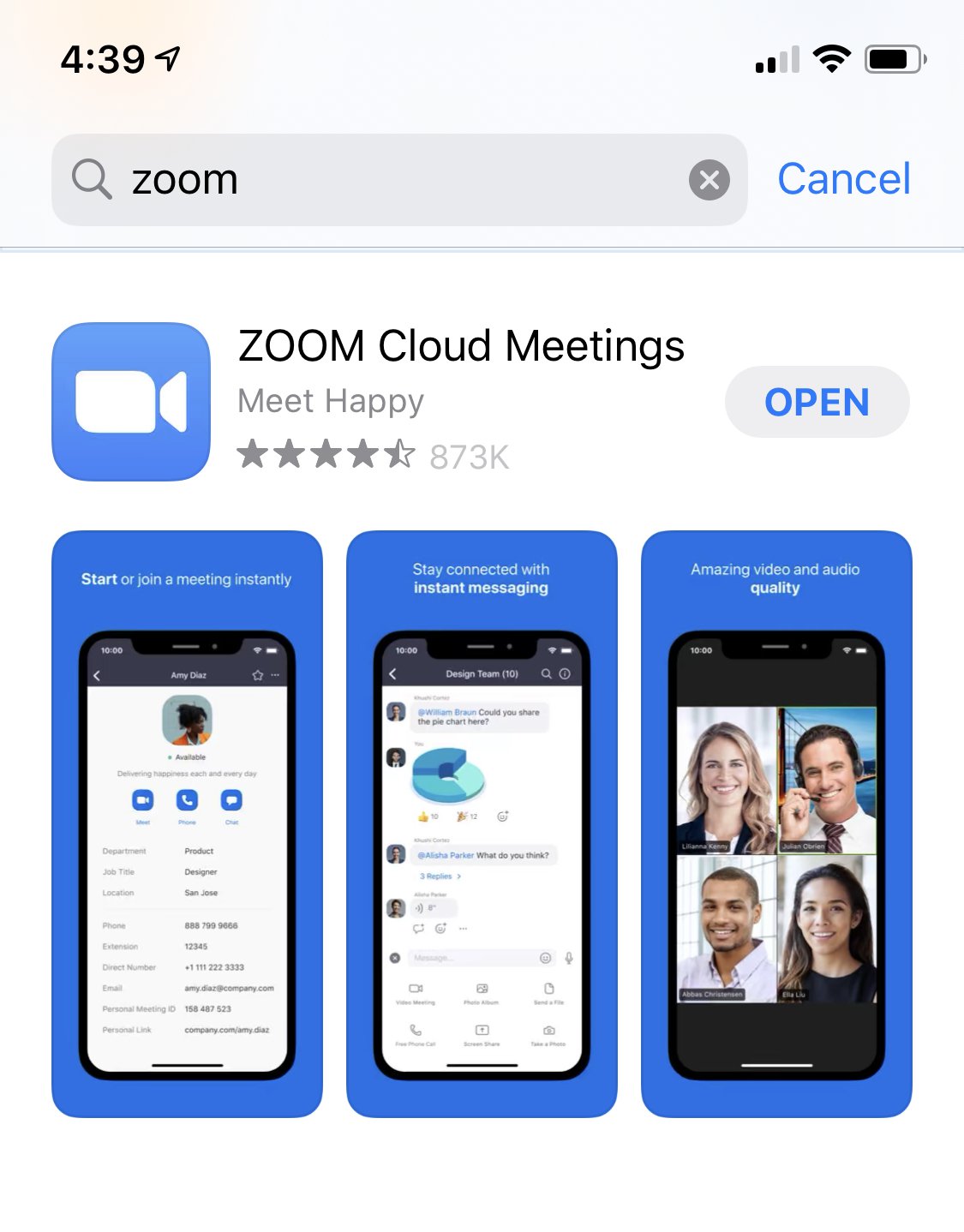 Open the Zoom app and select "Join Meeting."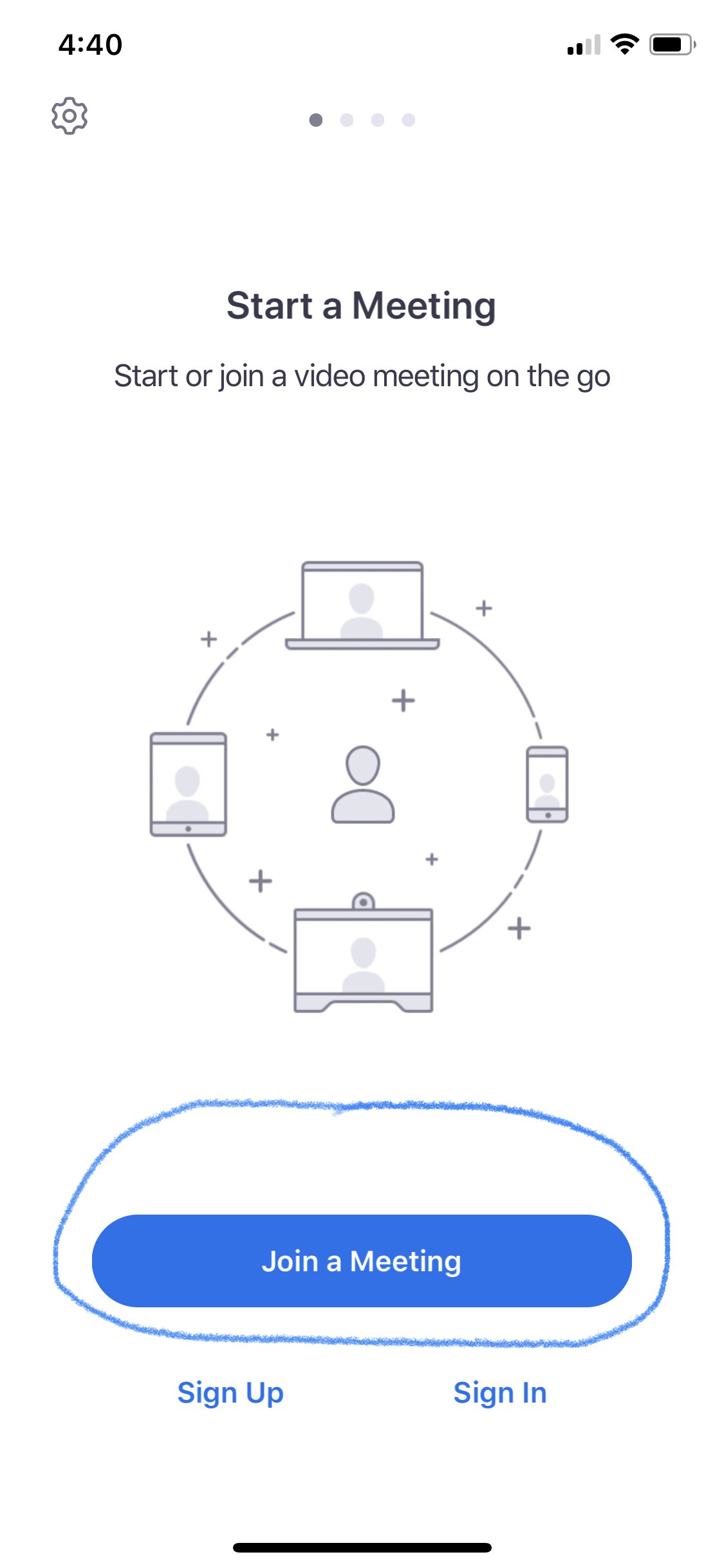 Enter the 11-digit meeting code for your small group meeting time (see info in section above).
NOTE: the snapshot below is an example, not an actual meeting code ID number.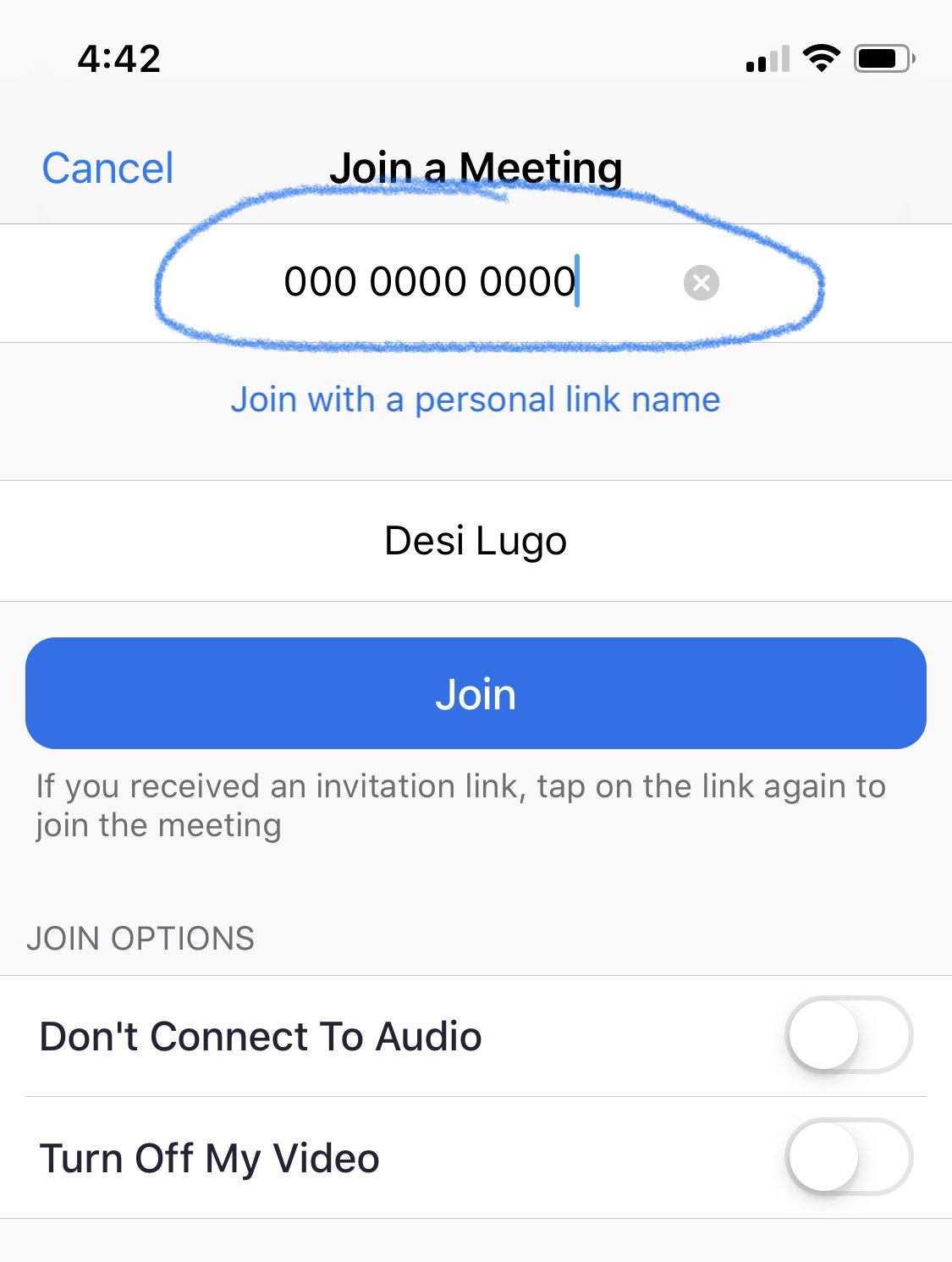 Zoom Download Instructions - Computer
You can join a Zoom meeting directly from the Zoom website (www.zoom.us) by clicking on the "Join A Meeting" link and entering the Meeting ID#.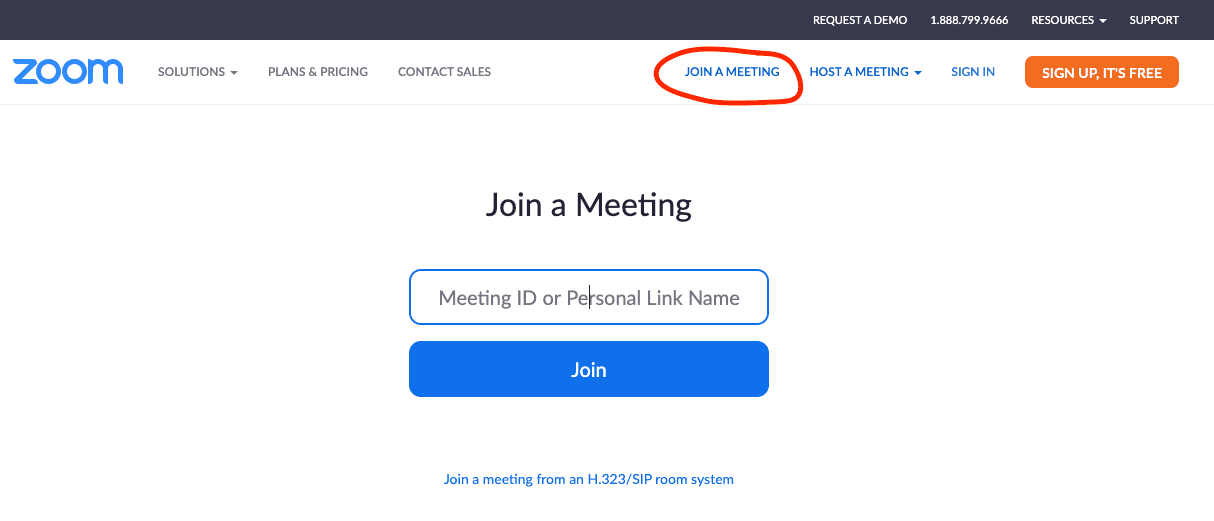 Even better, you can download the "Zoom Client for Meetings" desktop application by clicking HERE.

Download the software package and follow the prompts to install the desktop application on your computer. Once the application opens, select "Join A Meeting". Enter your name and the 11-digit meeting code for your small group time.
NOTE: You do not need to sign to join a small group meeting. The sign in option is for people who have a Zoom account; if you simply downloaded the application and did not register a username and password with Zoom, then you do not have an account.
Zoom Instructions - Telephone
You do NOT need to download anything to join the Small Group Connect meetings via your telephone.
Dial one of the toll-free numbers listed below and follow the prompts to enter the meeting ID and password for your small group time (see schedule above).
+1 929 205 6099 US (New York, NY)
+1 301 715 8592 US (Germantown, MD)
+1 312 626 6799 US (Chicago, IL)
+1 346 248 7799 US (Houston, TX)
+1 253 215 8782 US (Tacoma, WA)
+1 669 900 6833 US (San Jose, CA)
NOTE: If you choose to join by telephone, you will only join the audio portion of the meeting and will not be able to see fellow small group members via the video feature.